#1 Rated Anti-Snoring Device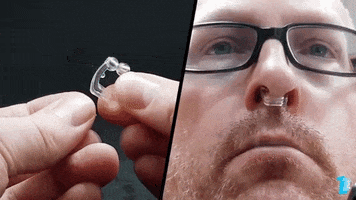 Highlights
☑️ Stops Snoring – Instantly stops snoring the first night, without changing your daily routines. Just insert Snoremagnet and sleep peacefully
☑️ Easy to Use – Snoremagnet is designed to be easy, simply insert it into the nose under the septum and that's it!
☑️ Comfortable – Small, lightweight, you won't even know you are wearing it
☑️ Improves breathing – Snoremagnet opens the airways, allowing a more even airflow providing easy breathing throughout the night
☑️ Hypo-Allergenic – Made from BPA Free Silicone, made to reduce allergens associated with using the Snoremagnet
☑️ Drug-Free – Ditch the expensive pharmaceuticals that prevent snoring, Snoremagnet is a Drug-free alternative

How its Made
Made from Anti-allergic Polyurethane (produced without Latex), the snore pin will not attract dust and is dishwasher safe. The product is allergen-free and fits and feels great.
It's what you need for stop snoring!
This device's new design effectively puts an end to snoring. BUT It also reduces symptoms of dry mouth by dilating the nostrils to ensure easy nasal breathing night long. It guarantees better airflow through its anatomic.
Description
 Anti-Snoring Device is a MUST have for any snorer out there.
SnoreMagnet is the first small and easy-to-use product that instantly improves airflow and snoring. The SnoreMagnet is made of soft silicone that applies gentle pressure in the nose. The pressure is applied through tiny, comfortable magnets that both improve airflow and keep the device in place for the whole night.
Snoring puts a strain on your body and your relationship. Trust us we have been there, Have you ever thought to yourself you just need one more hour of sleep or have you slept through the night and have woken up tired? SNORING is the problem no matter how much sleep you get you will always be tired.
How does it work?
The magnets in SnoreMagnet Gentle apply pressure in the nose, widening nostrils. Allowing for more consistent airflow. With the air moving easier and more regularly, the throat vibrations are reduced and eliminated.
It's truly compact, (smaller than a coin) makes it easy to take anywhere. Provided with the Snoremagnet is a storage case.
One size fits all
Works the whole night, without any drugs and without interrupting the sleep cycle. Better sleep can lead to improved moods, health, energy, and performance.
A true "no-brainer" for anyone trying to stop snoring.
💡 Fact
A survey of 10,000 Americans posted on a mattress review site found about 31% of respondents got "sleep divorce" in their relationship. Sleeping apart ruins their marriage. 
A normal and healthy sleep cycle should include at least 25% of deep sleep, by relieving snoring effectively, stop disturbing your sleeping partner immediately, and guarantee your body rest and regeneration.
Specifications
Brand Name: Snoremagnet
Material: Silicone
Pressure Range: 4-25 cmH2O
Model Number: SM594182
Item Type: Anti-Snoring Device
Product color: Transparent
Product weight: 11.1g
This Is A Great Gift For yourself or your friend!
Click "ADD TO CART" To Get Yours Now!