Do you want to have fun and be amazed in an educational way?
Give yourself some time to enjoy and learn with this Magic Growing Christmas Tree! It has the ability to grow in just a few hours and be amazed when it does!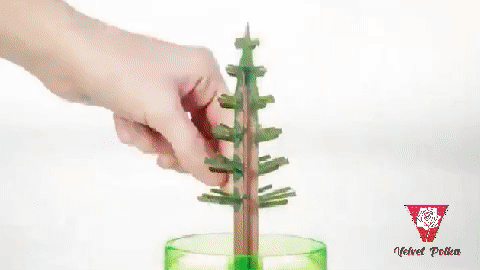 AUTOMATICALLY INCREASES IN SIZE – You won't believe your eyes! This is the ultimate science experiment for you and your kids. Within just hours, the tree will be covered with gorgeous colorful fluff and crystals!
FUN TO WATCH – It's incredibly simple, and yet incredibly engaging. You will want to watch it grow because you don't want to miss out on anything.
PERFECT CHRISTMAS DECORATION – Makes a great ornament for Christmas holiday, home, office, or anywhere you want. It will give you a light feeling and pleasurable ambiance of Christmas.
EDUCATIONAL SCIENCE TOOL – This item will challenge your children's imagination and pique their curiosity about how it grows. Have a fun talk with your kids about science and more!
EASY TO USE – Fix the tree on the Plastic Container provided. Put your star or other decoration then add the magic water. In just a few hours, colorful crystals will begin to appear on the tree branches. Set this up on your desired area and simply feast your eyes on how it grows hour after hour!
SAFETY MEASURE – Do not put in a place with ventilation or warm sunlight. Don't move often. It is not recommended to plant in rainy, foggy or humid weather or else it will grow slowly. Suitable for ages above 3 years old.
Make your Christmas fun and enjoyable! Enjoy this Holiday with the Magic Growing Christmas Tree. Grab Yours NOW!
INSTRUCTION
Remember to separate the branches into trees (otherwise, the branches will not be separated from each other at first, and the whole length will be one piece).
All decorations should be put on first (except fluorescent powder), do not put too much Nutrient solution at one time incase the tree grow too dense.
Do not put it in the place with ventilation or warm sunshine, and the room temperature is the most suitable.
Do not move frequently.
This product is a scientific experimental toy of physical principle.
In case of rainy, foggy or humid weather, the growth process will be long and even affect the appearance of trees, so it is not recommended to plant in these weather.
PRODUCT SPECIFICATIONS
Material: Paper + Chemical Reagents
Available Colors: Green, Colorful, Snowflakes, Heart, Pink, Santa Claus, Snowman
Size: 5.51 x 2.76 inc
Weight: 100g
Package Inclusion/s: Get 1pc Magic Growing Christmas Tree
This Is A Great Gift For yourself or your friends!
Click "ADD TO CART" To Get Yours Now!