🍊 More fresh juice, more healthy for everyone! 🍹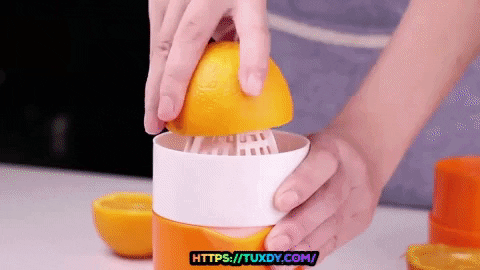 The Portable Juice Squeezer makes it easier than ever to enjoy your favourite fruits at the press of your hand! Using spiral extrusion, the amount of juice is increased by 15% compared to the usual extrusion method.
Portable Juice Squeezer provides the solution with a device compatible with everything and washable in seconds.
Manual juicer produces pure juice and this juice contains more vitamins as well as minerals. As this juicer does not heat up without having electricity supply, so, its nutrients elements are not destroyed.
Portable Juice Squeezer allows you to squeeze many fruits and vegetables: orange, grapefruit, grape, melon, tomato, lemon, pineapple, mango, apple, blueberry, kiwi, watermelon, cherry, peach, pear, strawberry, cucumber, raspberry, mandarin… You can mix the fruits and make original cocktails.
Easy to Clean
Detachable structure, after use, parts can be removed for cleaning, dried and stored
Safe and Healthy Material
The entire body of the gadget is made of BPA free, ABS, which does no harm to us. And there is no smell unpleasant existed. It ensures you to get the best original flavor.
Convenient Storage
Closed combination, will not pollute the internal structure by external dust, clean and healthy. The cup shape is easy to carry around,you can use it when you are away from home and at the time of traveling even.
This Is A Great Gift For yourself or your friend!
Click "ADD TO CART" To Get Yours Now!